BUTCHER BURGER - PORTLAND
Butcher Burger was established in the Spring of 2014, specializing in unique burgers, sandwiches, lobster rolls and fries. Our early roots began on the coast of Maine where we operated a seasonal location before expanding into the Western Mountains of Maine in the ski town of Bethel which continues to operate year-round. Our newest venture in Portland not only brings us back to our coastal roots, but to the city that we consider our second home.
We pride ourselves in supporting local breweries, and are pleased to serve you the very best of what the Maine beer scene has to offer. 
Our lobster is locally sourced from lobster boats along the coast of Maine where it is then steamed and hand-picked in house.
All food waste and organic materials at Butcher Burger are composted and donated locally.
"Your body is not a temple, it's an amusement park. Enjoy the ride."

-Anthony Bourdain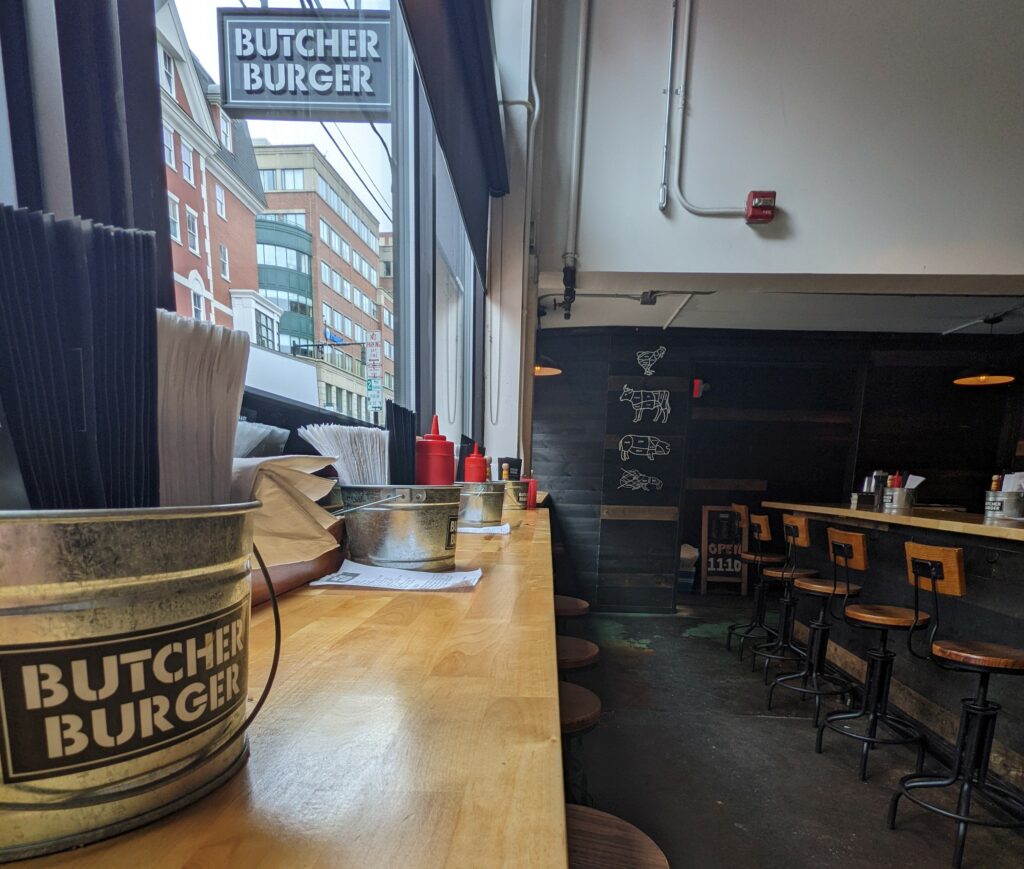 Open 7 Days a Week:
11:00am – 10:00pm
This error message is only visible to WordPress admins
Error: Connected account for the user butcherburgeroldport does not have permission to use this feed type.
Available for Take-out or Delivery through these local vendors:
add 1/4 pound Butcher fries [4]
CHEESEBURGER [15]
house patty • lettuce • tomato • onion • pickles • cheddar • block sauce
BACON BACON [16]
house patty • bacon • bacon jam • cheddar • block sauce
HAWAIIAN [17]
house patty • bacon • grilled pineapple • tomato •onion • cheddar • teriyaki mayo
#2 [19]
two kids burger • onion • pickles • cheddar • ketchup • mustard • 1/4 pound Butcher fries • soft drink
SURF & TURF BURGER [29]
house patty • hand-picked Maine lobster • lettuce • tomato • bacon • mayo
HOUSE [17]
house patty • bacon • caramelized onion • jalapenos •lettuce • cheddar • block sauce
BUTCHER [20]
house patty • pulled pork • bacon • fried egg • block sauce
TEXAS [17]
house patty • bacon • bbq sauce • onion rings •tomato • lettuce • cheddar • spicy ranch
MINI McMAC [16]
single house patty • special sauce • lettuce •cheese • pickles • onions • on a house bun MAKE IT A BIG... [+6]
The Butcher Burger house patty is a blend of beef and bacon. All house patties are cooked through.
add 1/4 pound Butcher fries [4]
BIG BIRD [15]
crispy chicken • lettuce • tomato • onion • pickles •block sauce
CHICKEN & WAFFLE [19]
crispy chicken • fried egg • Maine maple syrup •two belgian waffles as bun
BUTCHER MELT [17]
patty • caramelized onion • cheddar • bacon jam • block sauce
FALAFEL [17]
house-made falafel patty • lettuce • tomato •
onion • goat cheese spread • beet tzatziki
SPICY CHICKEN [16]
crispy chicken • Nashville hot • pickles • slaw • spicy ranch
CRISPY FISH [16]
crispy Maine haddock • lettuce • tomato • tartar
PORK...M.I.H. [17]
pulled pork • bacon • extra pickles • slaw •South Carolina bbq sauce
LOBSTER GRILLED CHEESE [29]
hand-picked Maine lobster • gruyere • sourdough
bacon [3] fried egg [2] cheddar [2]
jalapenos [2] caramelized onion [2] gluten free bun [3]
add 1/4 pound Butcher fries [4]
MAINE LOBSTER ROLL [29]
hand-picked Maine lobster • shredd lettuce • mayo • brioche roll
HOT-BUTTERED LOBSTER ROLL [29]
hand-picked Maine lobster • shredded lettuce • drawn butter • brioche roll
CRISPY LOBSTER ROLL [29]
crispy Maine lobster • shredded lettuce • bacon jam •spicy mayo • brioche roll
Maine potatoes • triple cooked
Served with block sauce
SEA SALT
1/2 pound [7]
1 pound [11]
SALT & VINEGAR
1/2 pound [7]
1 pound [11]
block sauce • spicy mayo • ranch • spicy ranch • bleu cheese • bbq •
South Carolina bbq • sweet & sour [1] • Butcher bacon jam [2]
FISH TACOS [18]
three corn tortillas • crispy fish • citrus slaw •pico de gallo • spicy mayo • avocado crema
CRISPY WINGS [17]
buffalo or bbqranch or bleu cheese
CHOZA FRIES [15]
sea salt fries • pico de gallo • avocado crema • spicy mayo
CAPRESE [15]
mixed greens • tomatoes • mozzarella • basil vinaigrette •balsamic reduction
CAESAR [13]
romaine • croutons • parmesan • caesar dressingADD crispy chicken [9] crispy haddock [9] falafel [9] Maine Jonah crab [15] Maine lobster [17]
GREAT "Butcher" burger, very nice people


A bit of a long wait but it was worth it! We had Texas burger, cheeseburger, lobster cheese toast and a side of pickles and fries- all very tasty! First time I had the grilled cheese lobster and it was a revelation how easy to eat vs lobster roll 😁 outside eating also better then inside , friendly customer service, a good experience overall. Prices were similar to all places downtown but food was really good!



Awesome food, great experience, wonderful service!

Haven't tried them all…but this is the best burger in Portland. So delicious! The chicken sandwiches are also incredibly delicious! I wasn't sure how it was going to go but chicken is just as good as the burgers, so don't sleep on them.The lobster roll, meh. It was fine. But this is a burger shop not a lobster roll shop.Have been a few times. Will continue to come back. This place is great!

Delicious! Go on a warm, sunny day and sit on the patio. Inside is small, but this hole-in-the-wall is worth making a visit!

Nice outdoor seating. Smash burgers were cooked just right and toppings were great. Good beer selection and service.

Simply amazing burgers and fries, doesn't compare to Five Guys at all and blows em out of the water.

First of all, the food was top notch! I had the lobster roll and salt & vinegar fries...yum! Best of all was that in handling my son's gluten allergy, staff was sure to bag his food separately and assured me that their fries were fried in a dedicated fryer, ensuring they are also gluten-free. His burger was cooked correctly and huge! My husband is picky about sauces, but these folks didn't mess it up. Sauce was on the side, per our instructions. The receptionist even took down my name and concerns so that when my online order came through, it would be carefully handled. This restaurant really has it all going on. Thank you to a caring and careful staff!

Excellent location, amazing food (burgers) and good drinks. The drinks are good. We just had local beer and it was satisfying. The burgers are definitely high tier in taste and quality. These burger meat is well cooked but talk to the employee to see what they can do for you. The employees were very nice and welcoming!Seating is very limited at the time we were here but I would highly recommend trying the burgers here if you can have a seat here. There is outdoor seating during the summer but during the spring/cold weather, there is very limited seating indoors.The fries were delicious! The sauce was amazing as well. Excellent quality food here. I would definitely come back to eat here again.

Travel a lot, eat a lot of burgers. Patty Melt was unbelievable next level tonight. I would not change a thing. Team seems to work well together too.

I had only been to their other location but this one is just as awesome! Great tasty food including the burgers, good simple cocktails, and a great vibe! I also love their vinegar fries! The staff is friendly and efficient and the prices are very reasonable, especially for Portland.


This place it tiny but the food is amazing. Would definitely return. Great things do come in small packages


Best burgers and fries in Portland! Amazing service! Highly recommend!

Was finally able to get a proper Hawaiian burger like they used to serve at Friendly's back in the day!

Quality food, cozy space. Dark decor, sports bar vibe. The staff is friendly and the service was quick. Little pricey, but the quality matches.

Truly a Gem! I travel for work a lot, a burger is always a safe choice but tonight it was a pleasure. I Had the house burger and the salt and vinegar fries. After countless cities and hundreds of burgers, this was the best I've ever had. Great people and amazing product. I hope I can one day enjoy this place again.

Excellent spot!! I ordered the Butcher burger and my wife got the Mini Mac (or Mac mini). Both were ON POINT. The service was great as well. Highly recommend!!

Rafael Morales J.
1681325411



Quick bite great smash style burgers. Cost is reasonable for portland but otherwise a little pricey.Small dining area but worth a stop in.Service was very attentive!

Food was decent, limited drink selection

I never expected to find food this good in a city this small in the middle of Maine. Very good 5 star food and the best burger joint I've ever been to. Caitlin was very down to earth and brought the whole experience together.



Great burgers, great service, great conversation

One of my favorite guilty pleasure foods is a good order of French fries. The salt and vinegar fries here are some of the very best I've ever had. I had to go back again before I went home

The burgers, the fries, the sauce, all of it was the best I've ever had. 11/10

The House Burger, the only one I had the pleasure of trying on my trip, is sitting comfortably at the top of my Burger Mount Rushmore.The fries, dip, and service was incredible, too.


Our Adventures H.
1679627056
The first bite was magical. This place makes fantastic burgers. I got a regular cheeseburger and it was the best I have ever had

Burgers are excellent! Hawaiian rolls, wow!Quaint spot with 19 seats!Not giving 5 stars because our drinks were subpar - the spicy marg tasted like vinegar and my partner disliked his dark and stormy.

Had a couple of great burgers really enjoyed them. The only complaint we had was the $4 for one order of fries, they were very good but feel the price was a bit much.


Tight space, tasty burger. I'm not big on crinkle-cut fries but the amazing salt-n-vinegar flavor was enough to win me over. The burger was tasty. Their spicy margarita involves some fresno pepper brine that carried some great, tasty, heat--much better than muddling a few pepper slices. Margarita was the highlight; burger & fries did not disappoint nor did they knock me over.

Burgers are amazing here.

Good burgers. I like that it's a small place with some character. Staff was friendly, but the waitress seemed annoyed and tired but understandable, its food service after all . Overall, it was a good meal .

The crispy lobster roll was tasty. I wish I didn't get the fried lobster but I didn't realize it was fried when I ordered it (oops). The bacon jam and spicy mayo were awesome touches to the lobster roll. Menu stated that the side of fries is 1/4 pound but the fry order was definitely were not 1/4 pound. Very expensive here.

No frills or fancy fluff just super tasty food! The Block sauce is to die for and everything we ordered was very delicious



Cool little spot to stop in for a local brew and a great burger!!!

We loved our burgers and drinks. We had their sweet Thai chili wings special and they were amazing. They need to permanently add them to their menu!

Very cool and friendly bartender with a great punk playlist. The food was also great, and the salt and vinegar fries were everything we didn't know we were looking for.

Great burgers, great beer, amazing salt and vinegar fries and very friendly staff!

Amazing hole in the wall!! If you blink- you will miss this place! We stumbled across it and went into a tiny cozy place. One lady running the bar/food. They dont have tables but just bar seating or against the window high tops. Very simple menu but PERFECTED! I am vegan and didn't find anything but my husband got the burger and fries and was raving about it the entire trip 🙂


Delicious food, great service, tiny space. Portland, you should donate curb space for an expansion:)

Little cramped due to cold weather

Great hole in the wall spot. Fantastic burgers

I ordered the fish sandwich, and I gotta say, it was one of the best fish sandwiches I've ever had! It was the perfect ratio of fish to bread and sauce. It was also the perfect combo with the salt and vinegar fries! The small atmosphere is great, with some awesome rock and soft rock classics playing through the speakers.

Came in for some food, there wasn't enough room for us to sit (don't blame them as if was Saturday evening). We decided to order to take out. We order the chicken waffle with and burger with fries (sea salt) and a side of bacon jam. On our trip across New England this is the best food we've had so far. It's easy to miss but don't be fooled, the food is great!

I really enjoyed butcher burger overall. Since the burger is made with pork and bacon it was a bit drier than expected but still had great taste overall. The fries are also a separate side so it was a great side but meant to be shared.


Small little spot. I'm going 2nd best burger in Portland, girl behind the bar was fantastic and whoever the chef is, just as great cause I left very satisfied. Burger (9.1/10) fries (8.4/10)


Food and service was very solid, but we smelled like a patty melt for a solid 12 hours

Everything except the price are 5 star I want to go again but would need a loan to afford it rofl. But seriously damn good and worth it.


Great burgers and service over the phone, but I've gotten home to missing sauces twice now.. cmon guys!

One of the only places in the state to find nashville hot chicken and I couldn't be happier

The burgers are so delicious and the fries are amongst the best I've had in a while. I definitely recommend if you're in the Portland area 👍

What a great dining experience! Caitlin was OUTSTANDING!! She made some very detailed awesome recommendations which were on point!!! Compliments to the chef as well, everything was cooked to perfection!! Wings were delicious and the bacon bacon burger and the award winning cheeseburger were mouth watering!!!! The blood, sweat, and tears that went into creating tonight's delicious food certainly showed!The signature drink that was created upon request was absolutely AMAZING!!! The one drinking it was greatly impressed!! Thank you very much for a great evening!!

I got what was nominated as "The best cheeseburger in Maine". I'm from Texas, we know our meat, and I can truly say this was an amazing burger. I got caramelized onions on it instead of raw. The buns are Hawaiian sweet rolls. Super delicious. The fries are great as they are cooked three times and gluten free!!! Caitlin was our server and was super nice, sweet, helpful, attentive, informative and absolutely welcoming to us three coworkers here from out of state. Definitely come eat here.

The burger and salt and vinegar fries were delicious 😋


Burgers were great, highly recommend if you are in the Portland area.

Great burgers and great fries. Homemade crinkle-cut salt and vinegar fries!?!?!?!?!?!?! Are you kidding me!!!!!! Phenomenal experience all around.

Fantastic burgers, all home made, never frozen.



Great burger and fries. Would recommend. A bit small on the inside, but great staff.

George Alvarado (.
1667651725
One of the best lobster rolls I had in Maine. Nice and hot, huge pieces of lobster and very buttery buns. The Caesar salad was also a big portion and well dressed.

I got the spicy crispy chicken sandwich with salt and vinegar fries.... OMG. The sandwich was heaven and the fries were almost exactly like pier fries. If you know you know. PURE DELICIOUSNESS!

Amazing food. Great place to eat.

Good burger place. I liked the Texas Burger

Great burgers,but with small seating area.


Delicious little eatery. Not a lot of seating room, but we went during off hours so got a seat at the bar. The waitress was very friendly and was chatting with us about the local scene as we are from Maryland. I got the lobster roll and it was incredible! Felt reasonably priced and great quality! The burger was excellent too, lots of great choices!

Great burger, friendly service. Tiny place but they also have outdoor seating available.


This place is fantastic. When we arrived Portland after a long drive we just wanted a casual spot to eat and we stumbled across this spot and it was a hit. The one thing that isn't clear by their website is this is a modern burger counter. No tables. Just bar seating and counter seating at the windows. There is some seating out on the street when the weather is nice. Don't let this stop you. The atmosphere is friendly and the burgers were some of the best I've had. The food and drink menues are simple, not overwhelming. The drinks were delicious and did what they are meant to do.The fries are crinkle style and very good. I recommend getting the choza fries. The burgers were super flavorful and the bun was soft, slightly sweet like a potatoe roll and held together the whole time. The burger looks like it will be messy when it first comes out but it really stays together. I will be going back for seconds before we head home. Oh and the bartender/servers were very friendly.

Amazing food and service!

The burgers were amazing, the fries were somehow even better than amazing, and the staff was just delightful, I can't wait to go back!

Cool hole in the wall with good food and nice staff


Lobster roll was good and the filet sandwich was good. Would eat there again

Excellent service. Amazing burgers and fries. Don't pass on this place!